October 23, 2023 – Vancouver, British Columbia – Graphite One Inc. (TSX-V: GPH; OTCQX: GPHOF) ("Graphite One" or the "Company") is pleased to announce the completion of the Company's 2023 summer drilling program, marking the largest exploration program in the Company's history and allowing the Company to accelerate completion of its National Instrument 43-101 – Standards of Disclosure for Mineral Project ("NI 43-101") compliant feasibility study (the "Feasibility Study"), anticipated to be released in the fourth quarter of 2024.
With the support of the grant funding awarded pursuant to the Department of Defense Technology Investment Agreement (the "DPA Agreement") under Title III of the U.S. Defense Production Act ("DPA"), which is funded through the Inflation Reduction Act, Graphite One carried out a large-scale drilling program, quadrupling the number of feet drilled in 2023 compared to 2022 (see chart below).
As a result of this DPA grant and a strategic investment from Bering Straits Native Corporation ("BSNC"), Graphite One completed 57 holes for a total of 8,736 m (28,661 ft) of drilling, including 5 geotechnical holes for the primary purpose of evaluating construction sites or hydrology conditions.
The remaining 52 resource holes all intersected visual graphite mineralization and continued to demonstrate exceptional consistency of a shallow, high-grade graphite deposit that remains open both to the east and west of the existing mineral resource estimate ("MRE"). See Figure 1 for more details.
2023 select drill holes with significant graphite mineralization include (full table below):
23GC088 returns 9.63 m of 13.19% Cg from 70.60 m;
23GC092 returns 9.0 m of 14.89% Cg from 35.0 m;
23GC099 returns 15.02 m of 10.75% Cg from 20.0 m;
23GC102 returns 10.88 m of 11.14% Cg from surface AND 8.03 m of 10.56% Cg from 66.14 m further down hole.
"Our team's impressive effort put us well on the way to completing the Feasibility Study as expeditiously as possible," added Anthony Huston, founder and CEO of Graphite One. "The results – 52 graphite intercepts over 52 holes – confirm our confidence that Graphite Creek is truly a generational resource of strategic value to the United States, and we wish to thank the Alaskan Government, our funding partners, local stakeholders, and communities for their continued support in advancing this critical asset."
Notable intercepts are listed below. The Company anticipates that the remaining assays will be received by the end of the year and incorporated into the Department of Defense DPA-supported Feasibility Study, which is anticipated to be released in the fourth quarter of 2024.
"I commend the Graphite One staff and our contractors for their exceptional execution of what was by far G1's most ambitious summer drilling program – in terms of drill holes and feet drilled – in the Company's history," said Mike Schaffner, Senior Vice President of Mining for Graphite One. "The conversion to a ground-based drilling program was very successful, resulting in much improved performance compared to past years by eliminating weather-related delays and reducing the reliance on helicopter support."
"The leadership team at Bering Straits Native Corporation (BSNC) is pleased with the early returns from Graphite One's busy drilling season. The impressive work of the Graphite One team, which includes local BSNC shareholders, reinforces our decision to support the project," said BSNC Director of External Affairs and Public Relations Marleanna Hall. "As a BSNC shareholder originally from Nome myself, I am thrilled by what this project can do for our region."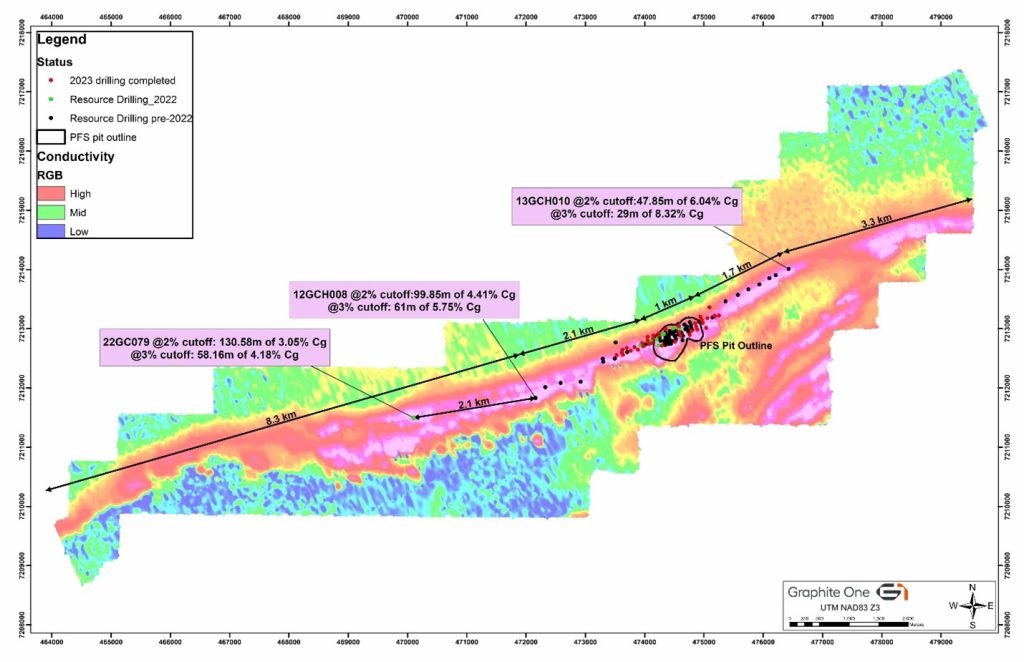 Figure 1: Graphite Creek Geophysical Anomaly with Resource Drilling to Date (CNW Group/Graphite One Inc.)

Summary of 2023 Summer Drilling Program Results: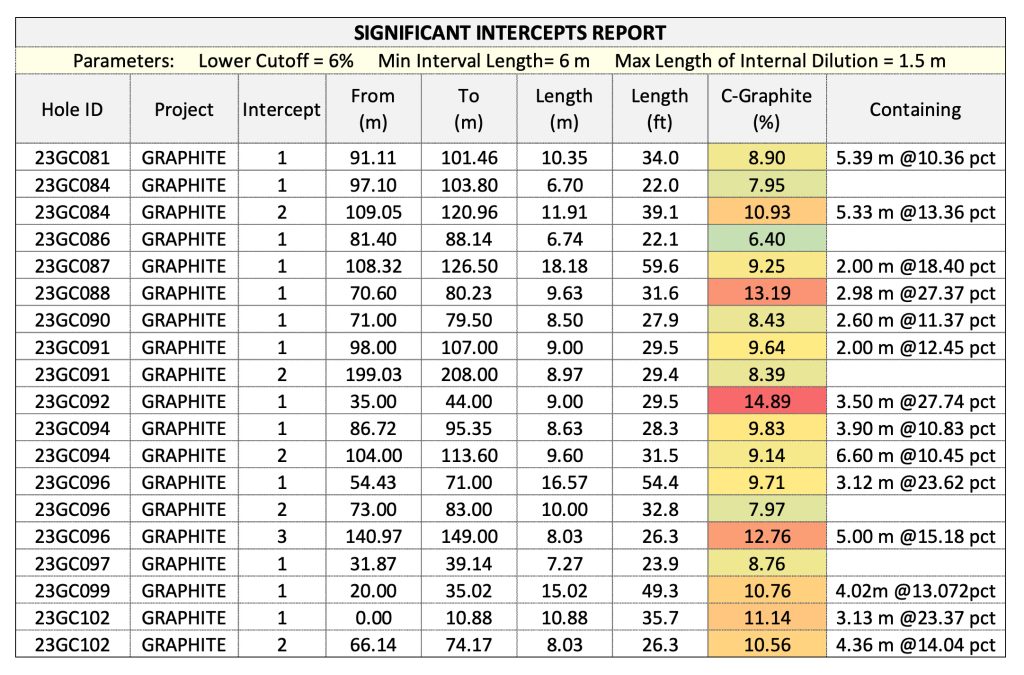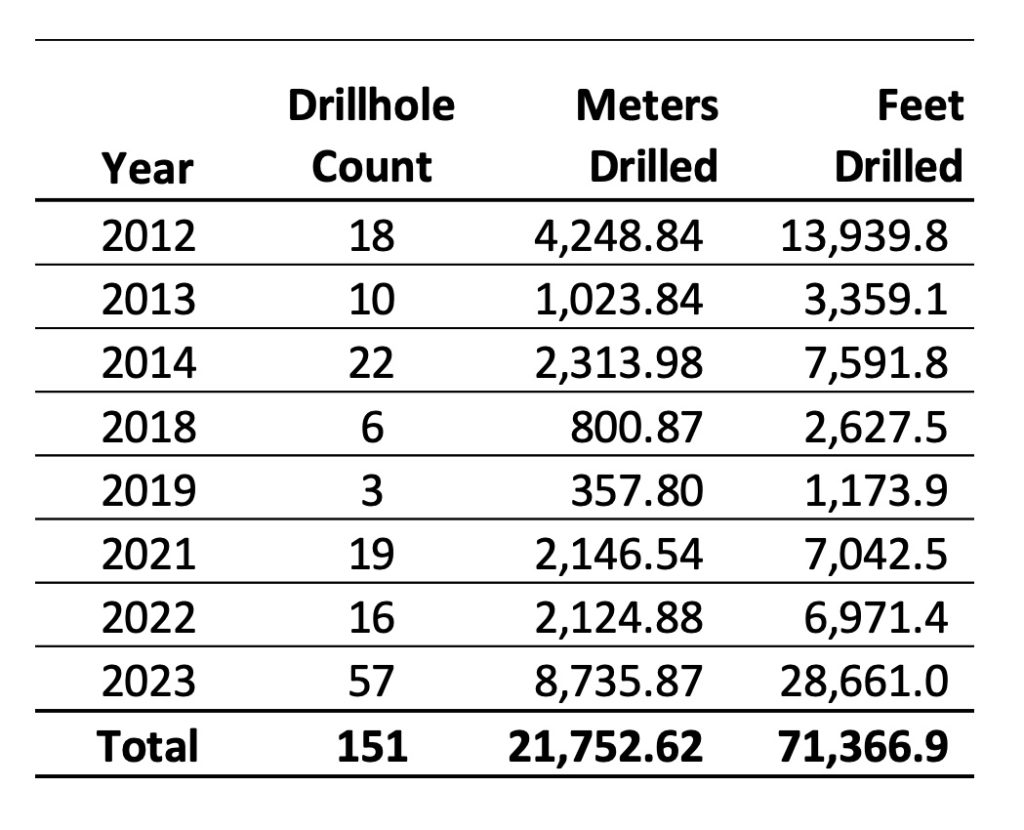 In 2020, no drilling took place due to COVID restrictions.
DPA Grant
On July 17, 2023, Graphite One (Alaska) Inc., a wholly-owned subsidiary of Graphite One, was awarded the DPA grant whereby the DPA's share of up to US$37.5 million is contingent upon the Company's obligation to raise an equivalent dollar-for-dollar amount. The total aggregate amount of up to approximately US$75 million is subject to the terms of the DPA Agreement. The funding objective pursuant to the DPA Agreement is to perform an accelerated Feasibility Study to modernize and expand domestic production capacity and a domestic supply chain for graphite battery anodes for electric vehicles and alternative energy batteries. The term of the DPA Agreement ends on November 30, 2024 and, if funds then remain available for drawdown pursuant to the DPA grant, the Company may request an extension to the term end date to complete the Feasibility Study, if required.
Graphite One's Supply Chain Strategy
With the United States currently 100 per cent import dependent for natural graphite, Graphite One is planning to develop a complete U.S.-based, advanced graphite supply chain solution anchored by the Graphite Creek resource. The Graphite One Project plan includes an advanced graphite material and battery anode manufacturing plant expected to be sited in Washington State integrated with the development of the Graphite Creek Property. The plan includes a recycling facility to reclaim graphite and the other battery materials, to be co-located at the Washington State site, the third link in Graphite One's circular economy strategy.
Technical Disclosure/Qualified Person
Mr. Rob Retherford, P. Geo, with Alaska Earth Sciences, Inc. provided oversite to the 2023 drilling and sampling program. Mr. Retherford is a Qualified Person as defined under NI 43-101 and has reviewed and approved the technical content of this release.
QA/QC Program Applied
Graphite One maintains a rigorous QA/QC program with respect to the preparation, shipping, analysis and checking of all samples and data from the Property. Quality control for drill programs at the Company's projects covers the complete chain of custody of samples, including verification of drill hole locations (collar surveys and down-hole directional surveys), core handling procedures (logging, sampling, sample shipping) and analytical-related work, including duplicate sampling, "check analyses" at other laboratories and the insertion of standard and blank materials. The QA/QC program also includes data verification procedures
GRAPHITE ONE INC. (TSX‐V: GPH; OTCQX: GPHOF) continues to develop its Graphite One Project (the "Project") to become an American producer of high-grade anode materials that is integrated with a domestic graphite resource. The Project is proposed as a vertically integrated enterprise to mine, process and manufacture anode materials primarily for the lithium‐ion electric vehicle battery market. As set forth in the Company's 2022 Pre-Feasibility Study, graphite mineralization mined from the Company's Graphite Creek Property, situated on the Seward Peninsula about sixty (60) kilometers north of Nome, Alaska, would be processed into concentrate at an adjacent processing plant. Natural and artificial graphite anode materials and other value‐added graphite products would be manufactured from the concentrate and other materials at the Company's proposed advanced graphite materials manufacturing facility expected to be located in Washington State. The Company intends to make a production decision on the Project upon the completion of a Feasibility Study.
On Behalf of the Board of Directors
"Anthony Huston" (signed)
Anthony Huston
CEO, President & Director
Tel: (604) 889-4251
Email: AHuston@GraphiteOneInc.com
Investor Relations Contact
Tel: (604) 684-6730
For more information on Graphite One Inc., please visit the Company's website, www.GraphiteOneInc.com or contact:
Neither the TSX Venture Exchange nor its Regulation Services Provider (as that term is defined in the policies of the TSX Venture Exchange) accepts responsibility for the adequacy or accuracy of this release.This release includes certain statements that may be deemed to be forward-looking statements. All statements in this release, other than statements of historical facts that address the planned release and timing of the Feasibility Study, the future planned exploration activities, including the nature, timing and scope of future drill programs and exploitation activities, the potential for the Company to declare mineral resource at the Graphite Creek Property, the ability of the Company to develop the Graphite Creek Property into a significant US-based graphite project, the nature of the mineralization at Graphite Creek, the total amount of funds available under the DPA Agreement, receipt of regulatory approvals, and events or developments that the Company expects, are forward-looking statements. Although the Company believes the expectations expressed in such forward-looking statements are based on reasonable assumptions, such statements are no guarantees of future performance and actual results or developments may differ materially from those in the forward-looking statements. Factors that could cause actual results to differ materially from those in forward-looking statements include the receipt of all necessary regulatory approvals, market prices, exploitation and exploration successes, continuity of mineralization, uncertainties related to the ability to obtain necessary permits, licenses and title and delays due to third party opposition, changes in government policies regarding mining and natural resource exploration and exploitation, and continued availability of capital and financing, and general economic, market or business conditions. Readers are cautioned not to place undue reliance on this forward-looking information, which is given as of the date it is expressed in this press release, and the Company undertakes no obligation to update publicly or revise any forward-looking information, except as required by applicable securities laws. For more information on the Company, investors should review the Company's continuous disclosure filings that are available at www.sedarplus.ca