US Geological Survey Report is Consistent With 2022 Drilling Results That Indicate the Graphite Creek Deposit Remains Open to the West, East and Down Dip
March 9, 2023 – Vancouver, British Columbia –Graphite One Inc. (TSX‐V: GPH; OTCQX: GPHOF) ("Graphite One" or the "Company"), planning a complete domestic U.S. supply chain for advanced graphite materials, is pleased to share the newly released US Geological Survey ("USGS") report titled "Insights into the Metamorphic History and Origin of Flake Graphite Mineralization at the Graphite Creek Graphite Deposit, Seward Peninsula, Alaska, USA1."
The USGS report states:
"The Graphite Creek graphite deposit, located in the Kigluaik Mountains 60 km north of Nome on the Seward Peninsula, Alaska, is the largest known flake graphite resource in the USA and is among the largest in the world."
"The new USGS report provides some very important insights that strengthen our knowledge base and deepen our understanding of how Graphite Creek and similar types of deposits are formed. It comes at a time when the United States needs to step up its game when it comes to Critical Minerals, and indicates how valuable USGS's contributions can be," commented Mike Schaffner, Graphite One's Senior Vice President of Mining. "We're excited to incorporate this information into our 2023 drilling program as we continue to expand our Graphite Creek resource."
Graphite One's October 2022 Pre-Feasibility Study was based on exploration of less than 7% of the 16 kilometer-long geophysical anomaly. The anticipated 2023 Drilling Program will continue to delineate the scope and size of the resource.
Figure 1: Graphite Creek Geophysical Anomaly with Resource Drilling to Date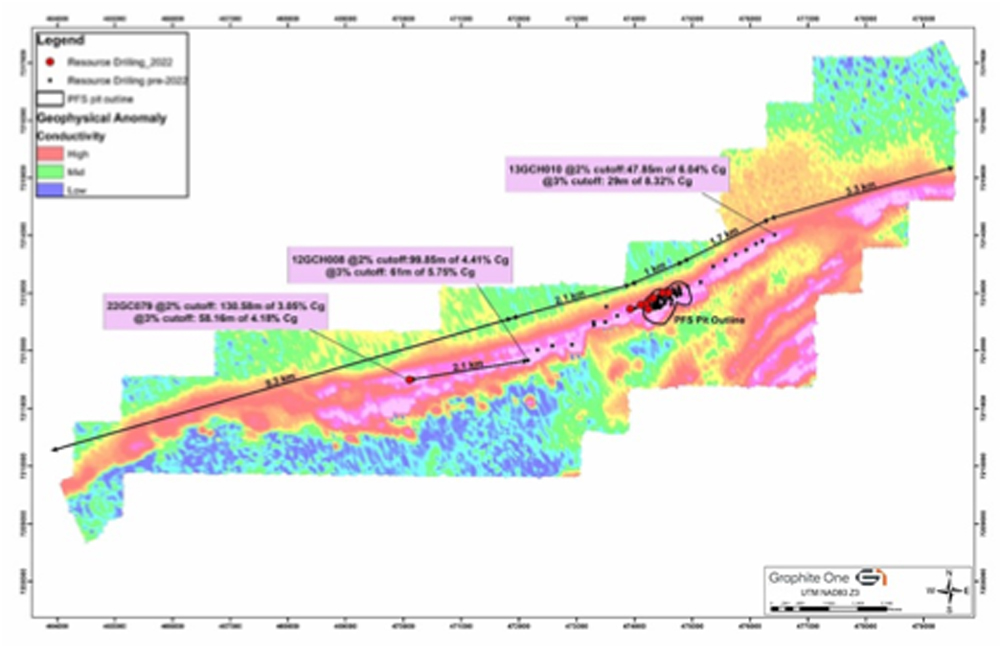 "The USGS report underscores our confidence that Graphite Creek is truly a generational graphite resource," said Anthony Huston, President and CEO of Graphite One. "It anchors our supply chain strategy — from our mine to our planned advanced materials manufacturing plant and our recycling facility — to build a 100% U.S.-based graphite supply chain."
The Graphite Creek deposit remains open to the West, East, and down dip. Graphite One is completing an analysis of the 2022 Drilling Program, which is anticipated to extend the inferred resource to the west and support the conversion of inferred resources to measured and indicated around the designated pit area. Graphite One expects to announce that resource update shortly.
The USGS Report notes:
"The United States of America (USA) is 100% net import reliant for graphite as of 2020 (U.S. Geological Survey 2021). China supplies 33% of US imports and accounts for over 60% of global production of ~ 1.1 million t. Consequently, the US government has designated graphite as a critical mineral…. Flake graphite—a highly ordered and crystalline form—is emerging as a particularly important source of spherical graphite used in the anode of lithium-ion batteries that power modern portable electronics, electric vehicles, and renewable energy storage systems…. Demand for battery graphite in 2040 is expected to be 25 times higher than in 2020 (International Energy Agency 2021). Thus, identifying potential flake graphite resources in North America and elsewhere is crucial for meeting future needs."
Mr. Rob Retherford, P. Geo, with Alaska Earth Sciences, Inc. provided oversite to the 2022 drilling and sampling program. Mr. Retherford is a Qualified Person as defined under NI 43‐101 and has reviewed and approved the technical content of this release.
Kinvestor Green Future 2023 Virtual Investor Conference
Graphite One is please to announce that Anthony Huston is scheduled to present at the Kinvestor Green Future Virtual Investor Conference on March 28, 2023 at 9:30 AM PST (12:30 PM EST).
Anthony Huston, President and CEO of Graphite One, states "As the United States continues to pass legislation to onshore critical metals such as graphite, we continue to drive the development of the largest known graphite deposit in the United States. Recent articles from Bloomberg and The Economist have also pointed towards the need for a supply chain strategy for graphite in the United States, which is the cornerstone of our business model. I look forward to presenting our opportunity in front the large audience of qualified institutional and retail investors that will be attending the conference."
Register now at: https://us06web.zoom.us/webinar/register/5516739932711/WN_TEaDseneQsm9I7ZW_mdJmw
Click here for the recent Bloomberg article titled: America's EV Ambitions Need a Graphite Plan. Fast.
Graphite One's Supply Chain Strategy
With the United States currently 100 per cent import dependent for natural graphite, Graphite One is planning to develop a complete U.S.-based, advanced graphite supply chain solution anchored by the Graphite Creek resource. The Graphite One project plan includes an advanced graphite material and battery anode manufacturing plant expected to be sited in Washington State integrated with the development of the Property. The plan includes a recycling facility to reclaim graphite and the other battery materials, to be co-located at the Washington State site, the third link in Graphite One's circular economy strategy.
On Behalf of the Board of Directors
"Anthony Huston" (signed)
For more information on Graphite One Inc., please visit the Company's website, www.GraphiteOneInc.com or contact:
Anthony Huston
CEO, President & Director
Tel: (604) 889-4251
Email: AHuston@GraphiteOneInc.com
Investor Relations Contact
Tel: (604) 684-6730
On Twitter @GraphiteOne
Neither the TSX Venture Exchange nor its Regulation Services Provider (as that term is defined in the policies of the TSX Venture Exchange) accepts responsibility for the adequacy or accuracy of this release.
All statements in this release, other than statements of historical facts, including those related to the anticipated results of the 2022 drill program, timing and completion of the anticipated Feasibility Study, future production, establishment of a processing plant and a graphite manufacturing plant, establishment of a battery materials recycling facility, and events or developments that the Company intends, expects, plans, or proposes are forward-looking statements. Generally, forward‐looking information can be identified by the use of forward‐looking terminology such as "proposes", "expects", "is expected", "scheduled", "estimates", "projects", "plans", "is planning", "intends", "assumes", "believes", "indicates", "to be" or variations of such words and phrases that state that certain actions, events or results "may", "could", "would", "might" or "will be taken", "occur" or "be achieved". Although the Company believes the expectations expressed in such forward-looking statements are based on reasonable assumptions, such statements are not guarantees of future performance and actual results or developments may differ materially from those in the forward-looking statements. Factors that could cause actual results to differ materially from those in forward-looking statements include market prices, exploitation and exploration successes, continuity of mineralization, uncertainties related to the ability to obtain necessary permits, licenses and title and delays due to third party opposition, changes in government policies regarding mining and natural resource exploration and exploitation, and continued availability of capital and financing, and general economic, market or business conditions. Readers are cautioned not to place undue reliance on this forward-looking information, which is given as of the date it is expressed in this press release, and the Company undertakes no obligation to update publicly or revise any forward-looking information, except as required by applicable securities laws. For more information on the Company, investors should review the Company's continuous disclosure filings that are available at www.sedar.com.
---
1 https://link.springer.com/article/10.1007/s00126-023-01161-3